I love the church. Unfortunately, today those words are as well received as saying I love lawyers. Why? For many, both groups are viewed as apathetic to the needs of the poor and vulnerable. What if we could change that perception? What happens when the church does justice?
Where is the church?
The pandemic was hard on churches. Many closed their doors. Behind closed doors some pastors wondered, "If we are unable to reopen our doors, will the community miss us?"
The question is significant. Some churches have consistently been woven into the fabric of their community. The answer for them would be a resounding "yes".  Others pulled back as society changed around them and formed holy huddles. Being a light to the world meant a campfire instead of torches going into the world's darkness. Sadly, for too many churches the answer of neighbors would be "no".
The data supports this. Reports by the Barna Group continue to demonstrate the church is losing a younger generation with 64% leaving the church. But the research also demonstrates how to keep these younger men and women.  A major book, Faith for Exiles, details the primary longings these men and women have:
I want to find a way to follow Jesus that connects with the world I live in.
God is more at work outside the Church than inside, and I want to be part of that.
I want to be a Christian without separating myself from the world around me.
These young prophets are calling the church to engage their community in practical ways.
Why the church matters
The longing these young people have to see the church care about the world around them has strong historical precedence. The early church won converts when they cared for the physical health of neighbors. The church established leper colonies, served plague victims, and established the first hospitals.
As the world watched, the church taught people to read, saved literary works from destruction, and established the first universities.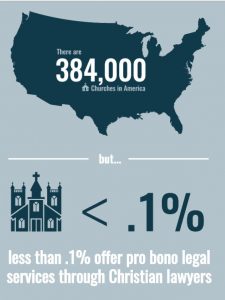 Historically, the church is at its best when it lovingly cares for neighbors. But the church has been entirely absent in legal ministry for the poor and vulnerable. With 384,000 churches in America, less than .01% are meeting the legal needs of vulnerable neighbors. This is particularly sad when justice for the poor and vulnerable is the second most prominent theme in the Bible. And justice consistently tops the list of concerns young people raise. In America, seeking justice often requires legal help.
Churches leading the way
Christ has always invited his bride to be his light to the world. Bill Leslie, a pastor in the old Cabrini Green neighborhood of Chicago in the early 1970's, started the first Christian legal aid in America. A message by an Indianapolis pastor on Palm Sunday in 1992 launched the largest local Christian legal aid in the country. And today more pastors are leading their churches into this opportunity. Consider what God is doing through Jesus Word Center in the Lawndale neighborhood of Chicago by watching this video.
While many churches struggled keeping members over the pandemic, Ebeneezer Christian Reformed Church gained members. When they looked into why they were growing, they discovered most new members had been served by their Gospel Justice Center.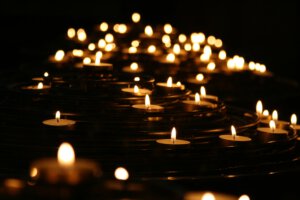 Another poll last year by Barna revealed that a younger generation is tired of words that ring false when leader after leader demonstrate moral failure. The number one thing they look for is authentic faith – "let your actions speak, rather than using words to explain your faith to someone." Actions speak louder than words. In the words of Jesus, "Let your light shine before others, so that they may see your good works and give glory to your father who is in heaven." Matthew. 5:16.
May Justice Roll
Administer Justice encourages churches to host a Justice Sunday in May. We have several resources available for churches on our website. God has much to say about justice and the church should not sit silent. But justice doesn't have to be a political topic. Loving neighbors isn't political, it's practical, and it's biblical. You don't have to fight over policies at the expense of failing to fight for people. Neighbors need legal help now.
Today 71 churches are stepping into the gap. They recognize Administer Justice as a partner in making it simple for them to do justice, love mercy, and walk humbly with God into their neighborhood. View our annual report to learn more.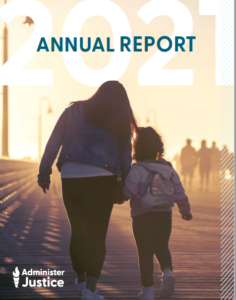 What is exciting is how these churches are reimagining justice as loving service to the least of these. Volunteers from the church are equipped in a way that connects with the world they inhabit, provides practical service, and powerfully demonstrates the love of Christ.
Join the movement. Visit our church leader page to get started.  Recapture the love of your community for you. One client recently wrote what they loved most about the legal ministry: "That it was at a church." Open the doors of your church and invite your neighbors in as you meet their legal needs.