As a Christian organization committed to justice for all, we read many books on justice. The power of a book to change you has been proven in multiple studies. Books and stories about justice, in particular, have the power to:
Inform us
Disturb us
Ignite us
Dispatch us
Just as reading the Bible is useful for "teaching, rebuking, correcting, and training in righteousness," so reading books on justice for the vulnerable will correct your assumptions and train you in how to bring about righteousness and justice, the foundations of God's kingdom.
Are you open to challenging yourself to seek justice for the vulnerable?
Do you want to see your friends or small group motivated to join you?
Read a book – ideally with others!
---
Books can be dangerous. The best ones should be labeled "This could change your life." ― Helen Exley
---
To get you started on your reading challenge, we asked our staff to each recommend one book that addresses justice. These books represent a wide range of topics and approaches to doing justice work.
Most of these books are distinctly Christian, but not all. Some highlight injustices and show an opportunity for Christians to engage and make a difference. They are all powerful books.
Our Recommendations
Here are 12 staff recommendations for books on justice that might change your life, in no particular order.

The Hole in Our Gospel: What Does God Expect of Us? The Answer That Changed My Life and Might Just Change the World (Rich Stearns) – "Rich Stearns claims there is a hole in our gospel when we think of salvation as a golden ticket rather than a golden rule to live out in the loving service of the least of these" writes Bruce Strom, our Founder and CEO. "While more than a decade old, his insights are highly relevant in our polarized world where God's people and His church need to embrace a whole gospel more than ever."
Half the Sky: Turning Oppression into Opportunity for Women Worldwide (Kristof and WuDunn) – "A passionate call to arms against our era's most pervasive human rights violation—the oppression of women and girls in the developing world." Each chapter highlights a different girl in a different country, shares a devastating story, and then shows how a little help can lead to transformation. Emily, our Senior Director of Engagement, believes you can't read this book and remain the same.
Love Does: Discover a Secretly Incredible Life in an Ordinary World (Bob Goff) – Goff demonstrates how to live a fully engaged life and reminds us that God usually chooses ordinary people to get things done. According to Judy, our Advancement Director, you'll find "great short essays about living life with joy, gusto, guts and love — in the way Jesus taught us and showed us. Life lived with deep love of God and God's children."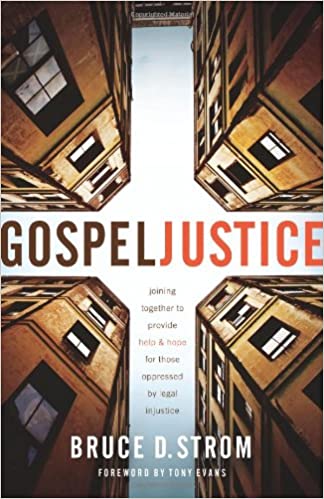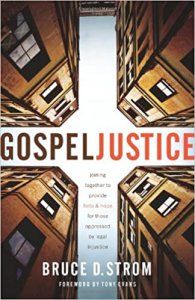 Gospel Justice: Joining Together to Provide Help and Hope for Those Oppressed by Legal Injustice (Bruce Strom) – Using the parable of the Good Samaritan and stories from 13 years of legal ministry, Strom calls churches across the nation to transform lives by serving both the spiritual and legal needs of the poor in their community through Gospel Justice Centers. According to Mark, our VP of Engagement, "Reading this book will cause you to reconsider afresh love for 'your neighbor,' and come to understand better how millions of our neighbors are turned away from legal aid each year with serious consequences. My sense is that it will move many to action."
When Helping Hurts: How to Alleviate Poverty Without Hurting the Poor . . . and Yourself! (Corbett and Fikkert) – This paradigm-shifting book demonstrates how easily well-intentioned ministry to the poor does more damage than good and shows a better way.Katrina, our Director of Operational Excellence writes, "I love the beautiful picture this book paints of an approach to ministry that's empowering, holistic, and transformational for everyone involved."
The Woman They Could Not Silence (Kate Moore) – This is the story of the forgotten woman who courageously fought for her own freedom―and in so doing freed millions more. Her refusal to be silenced and her ceaseless quest for justice not only challenged the medical science of the day, but it led to a giant leap forward in human rights.Lisa, our Senior National Launch Specialist, shares, "This book caught my eye because of the injustice thrusted upon a woman, back in 1816, who was wrongfully committed to an insane asylum by her husband because they disagreed on views arising from the Women's Rights Movement."
Just Mercy: A Story of Justice and Redemption (Bryan Stevenson) – This is Stevenson's own story about coming of age as an idealistic, gifted young lawyer with a moving window into the lives of those he defended, and an inspiring argument for compassion in the pursuit of true justice.Penny, our Administrative Assistant, loves this line in the book: "The true measure of our character is how we treat the poor, disfavored, the accused, the incarcerated, and the condemned."
Seeking Refuge: On the Shores of the Global Refugee Crisis (Bauman, Soerens, Smeir) – If you're looking for a biblical guide to the refugee crisis and help with navigating related issues, this book is your answer.Chris Rodriguez, our Support Specialist, writes "I really enjoyed this book because it made me look at people differently. I truly do wish to see refugees and others in their true light!"
The Emotionally Healthy Leader: How Transforming Your Inner Life Will Deeply Transform Your Church, Team, and the World (Peter Scazzero) – In this book, Scazzero shows leaders "how to develop a deep, inner life with Christ, examining its profound implications for surviving stress, planning and decision making, building teams, creating healthy culture, influencing others, and much more."Andrew, our VP of Legal Services, notes "This book taught me so much about what it means to be a healthy leader and build a healthy ministry. I have never looked at kingdom building the same way since reading it!"
The Impossible Will Take a Little While: A Citizen's Guide to Hope in a Time of Fear (Paul Loeb) – Have you wondered how to keep going in working for justice when it seems like our world is going backwards? This collection of short essays from leaders who have changed the world in little and big ways will encourage you.Kristin, our Director of Digital Marketing and Communications, writes, "Each essay is focused on different issues that link to the topic of peace or justice. It's quick and easy to pick up and just read one or a handful of entries, every one with its own unique style and perspective."
Generous Justice: How God's Grace Makes Us Just (Tim Keller) – Using the Bible as the foundation, Keller explores a life of justice empowered by an experience of grace: a generous, gracious justice. This was the first book we read and discussed with our AJ Book Club – if you've never seen justice for the vulnerable as a prominent theme in scripture, this book will open your eyes!
Pursuing Justice: The Call to Live and Die for Bigger Things (Ken Wytsma) – "Using clear evangelical theology and compelling narratives drawn from two decades of global ministry and travel, Ken Wytsma calls us back to a proper understanding of biblical justice, a redeeming glimpse into the true meaning of righteousness and the remarkable connection between our own joy, the joy of others, and the wondrous Gospel of Jesus Christ." Our AJ Book Club recently discussed this book and our staff highly recommend this book.
Summer is a great time for reading. As Christians called to seek first God's kingdom, these books will help you pursue righteousness and justice with insight, empathy, and vigor.