What do you think it means to "work as unto the Lord."? (Col. 3:23) I believe it means that God is my boss. What kind of employee would I be if I never took time to listen to my boss or speak with Him? I would hope my boss would fire me. And yet, too many individuals and ministries try to do things in their own strength while sprinkling a little Jesus on top. How about you? Do you take time to listen and talk to your boss regularly? (I Thess. 5:17)
Administer Justice began 22 years ago on February 14, 2000. Gospel Justice tells the story of how the ministry was birthed from the prayers of my wife, Helen. The ministry expanded nationally because of extended time in prayer with my friend and mentor, John Robb. Through those prayers, the vision of 1,000 Gospel Justice Centers transforming lives in the name of Christ was born. Prayer is foundational to Administer Justice.
Every Tuesday, we gather with others across the country for half an hour to praise God for answered prayer and to seek Him in prayer.
Every Thursday, staff gather for prayer. Prayer is part of every meeting. Our board receives week-long prayer guides prior to every board meeting which is replete with prayer – not just a perfunctory opening prayer.
Prayer makes a difference
Why do I think prayer is so important to every area of life – especially the work of justice?Because Jesus said it. He tells a wonderful story recorded in Luke 18. The woman in his story could be our client. She could be you. After spending decades in our court system, I easily identify with the crushing weight this poor woman felt. She was powerless in Palestine. She doesn't fare much better in America.


Luke relays her story in this way:
"Then Jesus told his disciples a parable to show them they should always pray and not give up. He said: "In a certain town there was a judge who neither feared God nor cared what people thought. And there was a widow in that town who kept coming to him with the plea, 'Grant me justice against my adversary.'
 "For some time, he refused. But finally, he said to himself, 'Even though I don't fear God or care what people think, yet because this widow keeps bothering me, I will see that she gets justice, so that she won't eventually come and attack me!'"
And the Lord said, "Listen to what the unjust judge says. And will not God bring about justice for his chosen ones, who cry out to him day and night? Will he keep putting them off? I tell you, he will see that they get justice, and quickly. However, when the Son of Man comes, will he find faith on the earth?" Luke 18:1-8.
Justice through persistent prayer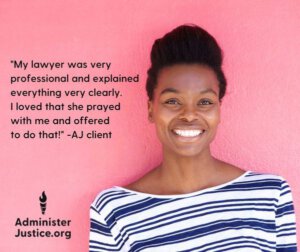 Can you feel the weight? Every day in America, poor people cry out to judges for justice with no response. They cannot afford an advocate, just like this widow. In 2020 the United States ranked 110th out of 128 nations for providing affordable access to justice. Our civil justice system ranks even worse than our criminal justice system. If you commit a crime, you are provided a free lawyer, but if you are a victim you must fend for yourself. Average people cannot afford thousands of dollars for the assistance of a lawyer. Without the guidance of a lawyer, the system is stacked against them.
Want to know more? Attend our webinar, Explore Gospel Justice.
The widow in Jesus' story felt that way. Someone in power owed her something. Perhaps it was related to the death of her husband. Whatever the case the oppressor and the judge both knew she was entitled to justice but had no desire to grant it. The system favored them. But the widow would not relent. She persisted. The poor woman who was abused by power turns the table through persistence. This is why we empower vulnerable neighbors with the help of a lawyer and the hope of God's love. Empowered they can persist through the next steps action plan they receive.
Pleading for justice
In America when we go before a judge, we file what is called a pleading. We plea for justice. Our written pleading ends with what is called a prayer for relief. That is the point of Jesus' parable. When we plead our case before Heaven's judge, will he not hear our prayer for relief and respond? When we stand in faith against injustice through persistent prayer, God accomplishes the impossible.
Jesus ends the story with a significant question, "will he find faith on the earth?" Lk. 18:8b. The question is not perfunctory but profound. Today many people cry out to God for justice, but they enter the battle in their own strength and abilities. I appreciate their efforts, but injustice is evil. Injustice is the work of a real adversary who cannot be defeated by man. He is already defeated by Jesus so we move forward in victory through prayer, by the power of the Holy Spirit, asking to see Christ's kingdom come and his will be done on Earth as it is in Heaven. That happens not by our efforts but by prayer-fueled faith.
As Administer Justice enters its 22nd year of service we do so on our knees. Will you join us? Whatever injustice lies before you, talk to your boss in prayer. He will meet your needs and see that you get justice.