1 in 3 Americans cannot afford the high cost of an attorney. A nation that pledges 'justice for all' has fallen from 65th to 126th out of 139 countries for providing affordable access to justice. But it's not just legal help that is lacking - it's hope. Our world is divided, the news is grim, and the mental and emotional health of our neighbors is significantly impacted.
Administer Justice has pioneered a simple model to provide the help of a lawyer and hope of God's love through the home of the church. For 22 years, we have equipped volunteers to do justice, love kindness and walk humbly with God. And as churches lead in providing affordable access to justice, the gates are opening - providing access to justice and Jesus.
THE VISION: CAMPAIGN FOR 300
LAUNCHING A GOSPEL JUSTICE CENTER
DR. RENEE'S STORY
"The good samaritan didn't just walk by. He stopped – and took the hurt man to an innkeeper who could help."

A SELF-SUSTAINING BUSINESS MODEL
Your seed investment of $5,000 launches a new center that will serve approximately 100 people each year and cover its own costs thereafter!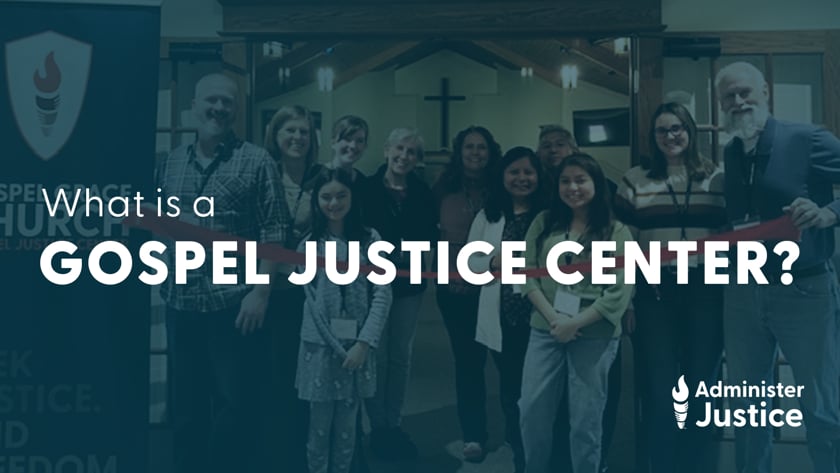 You can be part of God's movement of justice by becoming a member of our Torchlighters Society. Our Torchlighters invest $5,000 to open a new gospel justice center.  Some are able to do two or three centers each year.
If you are unable to offer support at that level, please consider identifying with our clients who contribute a $30 copay for service. Maybe you can give $30/mo., $60/mo. or $90/mo. Whatever you give will help us Open the Gates for justice and hope for all.  Thank you. 
THE FRUIT OF YOUR INVESTMENT
SERVES OVER 100 PEOPLE WITH LEGAL NEEDS
Lawyers provide access to information and assistance to help people understand rights and free them from violence, fraud, instability, and legal burdens so they can flourish. As lawyers serve for free, your $5,000 investment provides an average of $300,000 in legal support and $70,000 in community benefits.
TEACHES OTHERS HOW TO HELP THEMSELVES
We create action plans for our clients that empower them to be proactive on their own behalf. We don't do justice for clients, we do justice with clients so they are equipped now and for the future.
LAUNCHES A SELF-SUSTAINING MINISTRY
Doing justice requires a team. Your support equips a Gospel Justice Center team with the tools and resources needed to change lives now and for eternity. This team includes an Attorney, Client Intake Specialist, Client Advocate, Prayer Champion, Hospitality Specialist, Interpreter, Community Advocate, and Follow-up Advocate. Clients pay a $30 copay for buy-in which sustains the ministry going forward.
PROVIDES LOCATION FOR CLINIC
Whether sponsoring a church or hosting a business site, $5,000 provides the resources to establish and equip a Gospel Justice Team to serve 4 hrs, 1 Saturday a month. All that is needed is a child-friendly waiting area, private office(s), and internet access.
SUPPLIES JUSTICE-IN-A-BOX
Turnkey tools provide all the forms, training, and cloud-based management system needed for transformative community impact. Membership provides access to a national network, monthly calls, assigned expert coach, and extensive resources to ensure ongoing success.
NO ONE DOES
JUSTICE ALONE
And no one should face injustice alone. Thank you for using your resources to come alongside someone in need. Your support empowers vulnerable neighbors with the HELP of a lawyer and the HOPE of God's love through the HOME of the church.
"Good will come to him who is generous and lends freely, who conducts their affairs with justice." – Psalm 112:5