Top three reasons to join the Open the Gates campaign for 300 Gospel Justice Centers!
Have you ever wondered the reason God is making you wait? I have. Many times. Two years ago we were ready to launch a major Open the Gates Campaign with Dr. Tony Evans. He was going to announce a $2 million dollar campaign. That was more than 4x what we had raised before.  As Dr. Evans said, "This is the opportunity of a lifetime because it is the need of a lifetime." We thought we were ready, but we weren't. I was just being impatient. How about you? Have you ever been impatient?
God's timing is rarely our timing.
If you were with us two years ago, you know we all wanted to hear from Dr. Evans. God had other plans. Unexpectedly, Tony's wife, Lois, took a sudden turn for the worse in her battle with cancer. At the last moment, Dr. Evans knew he needed to be by her side. Lois died a few weeks later. Last year, Dr. Evans was ready to return but then COVID prevented gatherings and he joined us virtually. We knew that was not the time to launch a major campaign. What was God up to?
Have you ever wondered why God seemed to be delaying? Then all of a sudden, He shows up, and looking backward it all makes sense. That's the story of the Open the Gates Campaign and here are the top three reasons now is the time to join Him in bringing justice and hope to a nation in need by registering today.
Reason #1: Move where God is moving!
Someone once told me I should look for where God was on the move and then join Him or get out of His way. I like that. While I was anxious to invite more churches into the work of gospel justice, God was preparing His church and His people. Divisions in our county, racial unrest, and the pandemic caused people to ask why God was allowing this to happen. Churches began debating justice and seeking practical ways to do justice, love kindness, and walk humbly with God. (Mic. 6:8). Many saw the impact of the pandemic on the poor and vulnerable. They watched multiple new laws pass but struggled to understand how to navigate. Law is complex and confusing. Who could stand in the gap to empower vulnerable neighbors? Could anyone make justice simple?
Administer Justice was praying. Our team rallied around making justice simple by doing the heavy lifting. We make justice simple by equipping a justice champion to launch and operate a Gospel Justice Center where local residents are given legal guidance and shown the love of Christ. Two years ago we did not have the structures in place to do this. Suddenly we saw an explosion in opportunity and new Gospel Justice Center growth.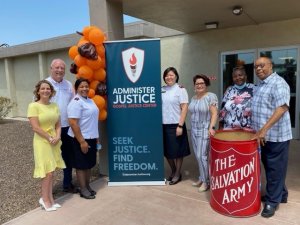 Seeing a growing need and understanding the opportunity of Administer Justice, Commissioner Douglas Riley earlier this year recommended all 304 corps (churches) in the Western Territory (14 states) consider establishing a Gospel Justice Center. This explosive opportunity led our board and staff to pray. We believed the time had come to launch the campaign to establish 300 new Gospel Justice Centers by the end of 2025. Doing so would require resources. Nothing like this has ever been done before. The church that started education and health care has had nothing to do with justice for the poor. But God was creating circumstances to awaken His bride and His people to stand against hatred and division and be conduits of his love, grace, and mercy.
Two Million Dollars
In my timing, we were launching a campaign for two million dollars. In God's timing, he raised up two separate families earlier this year who saw the need and the great opportunity Administer Justice represents and they each gave one million dollars!  God is on the move! The cost to accomplish 300 centers, 2,400 volunteers, 450 attorneys, serving over 15,000 clients with the help of a lawyer, and the hope of God's love is $7 million dollars. Big historic opportunity requires big historic investment.
God is on the move and we want to move with Him.
Reason #2: No one does justice alone!
I wanted to gather in a big banquet hall but COVID made that questionable. God wanted us to invite more people and share His heart and opportunity in more neighborhoods. So this year we gather in four neighborhoods for a one-hour breakfast in Rockford, Elgin, Oakbrook, and Glendale, Arizona.
Perhaps you can serve as a table leader to invite a group of friends to hear stories of transformation and learn more about the campaign. Maybe a friend is inviting you. Come as friends. Justice is a community activity. This is why we train teams of people to serve together. No one does justice alone and no one should face injustice alone. Together we can have a significant impact.
Reason#3: One hour!
During fundraising season many charities are competing for your evening. We used to struggle to find an evening free. So we chose a breakfast event. One hour. What else will you do with an hour in the morning? One hour to join with friends and learn about the historic work God is doing to advance His heart for justice.
In Gospel Justice, I ended the book with God's invitation. I hope you will join in this invitation as we Open the Gates for Justice & Hope.
Go and Do Likewise
"Envision yourself in the crowd as Jesus told the story of those encounters along the Jericho Road. You'd been on your way to the market when you went to see what the commotion was about. You saw a teacher of the law stop that young traveling rabbi. Earlier today you had little concern outside of your to-do list. But something about Jesus caught your attention.
You heard the Great Question: "Teacher, what must I do to inherit eternal life." The answer was worth hearing. Then came the Great Command: "Love the Lord your God with all your heart and with all your soul and with all your strength and with all your mind and love your neighbor as yourself."
Then came the Great Story. Strange and compelling as the young rabbi described the scene with such detail you could see the injured man, the Levite, the priest, and the Samaritan.
The very air was heavy as each listener understood the gravity of what the teacher was saying. Like the others, you understood the neighbor was the one who stood against injustice. The neighbor showed mercy. The neighbor got involved and sacrificed time and money and risked ridicule.
No one spoke. Even the birds seemed to go silent as the teacher looked first to the lawyer, then to all those present, and said, "Go and do likewise." Piercing eyes looked into your very soul as the words lingered in the still air.
Would you return to your grocery list?
Somehow the market seemed insignificant. Somehow your to-do's just don't seem as important.
You make a decision.
You will go and make a difference. As you turn, you see the rabbi smile, and you know you have made the right decision." Gospel Justice, pp. 197-198.