Pro Bono Week Highlights the Need of Justice for All!
This week is national celebrate pro bono week which celebrates attorneys doing pro bono work.  Administer Justice reached out to one of our leading volunteer attorneys, Steve Keist.  He submitted this blog to encourage others in the joy of pro bono service.
by Steve Keist
All lawyers become aware of the inequities embedded in our legal system.
Entering law school, most people enter law with have an idea of advocating for justice. Yet starting our career in law can burden us with many restraints: the time involved in establishing our practice; the need to earn money to support our families; and the reality of fulfilling our educational loan obligations.
For most of us, the idea of reconciling the legal system inequities and advocating for justice doesn't go away, it simply lies dormant, waiting for us to recognize the desire to help someone navigate our legal processes.
We know the need is great, and we know we would be able to help someone in a way that could ease their burden.  We just don't always know how to begin.  Getting involved with a legal aid ministry provides that opportunity.
The Most Rewarding Part of My Legal Career
Halfway through my legal career, I decided to volunteer to help the poor with pro bono legal advice. This has been the most rewarding part of my now long legal career.
I think of Julie, whom I met almost fifteen years ago, through the legal aid ministry in Phoenix, Arizona. She was just released from prison, having served a three-year term for drug possession. She had been addicted to various controlled substances for several years culminating in crystal meth. While in prison Julie became a Christian and overcame drug addiction.
She sought help for reuniting with her two children.  They had been left with their father who had drug and mental health issues. I decided to not only give her advice, but eventually represent her to obtain parenting time and eventually full custody of her children.
Since then, Julie has stayed clean and her children are grown and living successful lives.
There is a Growing Need for Advice and Hope
The only obligation of a gospel justice center volunteer is to listen and offer advice.  Believe me, anyone can do it.   You don't need to be an expert in the legal issues of the poor to help.  Most of the people I have met with just need some advice and hope.   The need is great and growing.
Please consider volunteering.  Reach out to Administer Justice today to learn how you can begin what might be the most rewarding part of your legal career.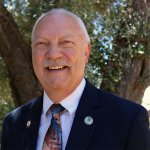 Steve Keist is from Wichita, KS and earned his JD Law degree from the University of Nebraska. He has been in the general practice of law since 1977, and is currently the Founder and Senior partner of Keist Thurston O'Brien P.C., a full service law firm with offices in Glendale and Peoria AZ. Steve began Christian Legal Aid of AZ in 2001 and currently directs the legal aid work there. He is the Chairman of the Board of Directors of Administer Justice and has been married to his wife Joann for 44 years.