Register Now for Restoring Hope and a chance to meet Dr. Tony Evans!
This Thursday, October 22, is Administer Justice's virtual fundraiser Restoring Hope with Dr. Tony Evans. The event is free but you must register to receive the link to our broadcast page.
Let me share three reasons why I hope you register now for this important event.
1. Your chance to meet Dr. Tony Evans in a virtual room
Friday morning, October 23, at 8:00 am Dr. Tony Evans will join us virtually for a discussion on Faith and Work.  Our work is an important vehicle for advancing God's Kingdom Agenda.  Our work is a means of advancing God's grace, justice and mercy toward all we encounter.  In a world of increasing darkness, we need our light to so shine before men that they glorify our father in heaven.
Everyone who registers for our virtual event will be registered for a drawing to be part of this small group private gathering.
Dr. Tony Evans has been named one of the 12 Most Effective Preachers in the English-Speaking World by Baylor University.  He is the founder and senior pastor of Oak Cliff Bible Fellowship, founder and president of The Urban Alternative, chaplain of the NBA's Dallas Mavericks, and author of over 100 books and Bible studies. His radio broadcast, The Alternative with Dr. Tony Evans, can be heard on more than 1,300 US outlets daily and in more than 130 countries.
Dr. Evans is a friend and wrote the foreword to my book Gospel Justice.  You will be blessed by his message Thursday night and the opportunity to perhaps speak with him in the private gathering Friday morning.
2. Your chance to do justice for those most impacted by COVID.
COVID disrupted all areas of our life.  While we're all impacted to some degree, the poor and vulnerable are hit hardest.  Administer Justice is seeing a 30% increase in client need and we only expect that to rise as the pandemic continues.  Child abuse is on the rise along with intimate partner abuse.  Potential homelessness creates fear as rent and mortgage payments are missed because of unemployment.  Health and safety are at risk.
The law looms over all these areas.  But who can keep us with the the legal changes?  Before COVID laws were complex and confusing.  Now at a time when answers are needed most, laws have only become more difficult to navigate.  You can help.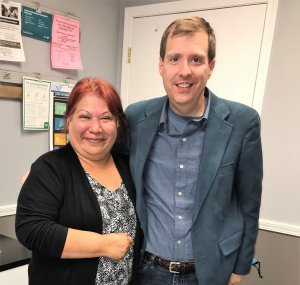 I met a new friend named Maria a few weeks ago.  Don't worry we held our breath for this picture taken this week.  She is a domestic violence survivor.  Her husband is in Danville prison.  She is looking to start a new chapter in life free from fear and violence.  She filed for divorce.
I have to tell you that navigating remote courts, new documents, new naming rules, scanning rules and more are complicated – for me.  For my friend who does not have access to technology and has limited education and English, it is impossible.  But your support allows us to come alongside Maria and guide her through the process.  As the judge entered the final order this week, Maria cried tears of joy.  The power of Christian love should never be underestimated.  I love Maria's courage and am grateful for the release that comes from severing years of fear and abuse.
Thank you for making it possible for our staff and thousands of volunteers to serve more than 67,000 individuals like Maria over the last 20 years.
3. Your chance to experience the joy of generosity
I don't miss the millions of dollars given up in leaving a law practice to serve neighbors in need.  Some people think that is crazy, but you cannot buy joy.  I find great joy in seeing joy restored to friends like Maria, and in seeing joy in volunteers and donors who generously give time and resources to provide the help of a lawyer and the hope of God's love.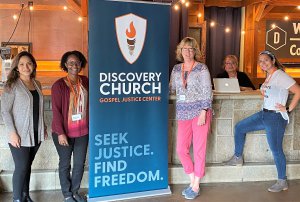 Last weekend a new gospel justice center opened at Discovery Church in Elgin.  I wish everyone could experience the joy of a team using their gifts to serve neighbors in need.  One man had a stack of documents that needed to be reviewed.  He was overwhelmed and confused.  It was too hard to explain virtually.  When he learned this center was safely open, he gladly drove over an hour from the city to receive the guidance and direction he needed.
One of the team members was so moved by the experience and the impact a legal ministry has on clients AND team members she asked, "Are there other neighborhoods looking to start a gospel justice center?"
YES
COVID put a pause on new gospel justice centers opening.  But we are now in conversation with 28 neighborhoods with more pouring in every week.  All it takes is a one-time gift of $5,000 to launch one of these new centers.  Once opened $30 client dignity fees sustain operations forever into the future.  A one-time gift has life-time impact.  In the first year, 10 volunteers will be trained to donate 600 hours of care impacting approximately 100 vulnerable neighbors in need.  What a Kingdom Investment!
This team member joyfully gave $5,000 to share the joy she saw first-hand with others!
I hope you can join us Thursday night. If you are unable to join, would you donate to support our clients and volunteers as we Administer true Justice and show mercy and compassion to one another.  Thank you.