Doing justice requires patience
by Daniel Strom
This time of year is usually marked by excitement and anticipation for students heading back to school. For millions of kids across our country, COVID-19 has changed that excitement and anticipation to disappointment and anxiety. 
These issues are in the front of my mind as I begin a new job with the Illinois Student Assistance Commission. I'll help high school students apply for financial aid, fill out the FAFSA, and advise them on the college application process. Having to do this all virtually has been a challenge.  It has also helped me better understand how we can show up for our neighbors in this time of crisis. Throughout scripture, we are reminded of the virtue of patience.
Justice requires patience
I've learned that doing justice requires patience. When we plant seeds of inspiration or encouragement, we may not always see the end result; if we do, we know that the process takes time. As I help students fill out college applications, I don't always know what it will mean for their future down the line. Technical difficulties with a Zoom call or having to explain the complexities of FAFSA over the phone have helped teach me valuable lessons about patience–an experience I'm sure is shared by many of us in the new virtual workforce. 
 For many of us, just as with many students, this pandemic season has tested our patience and strained our capacity to trust, as the goalpost for when everything will be over is moved from one month to three months to six months and on. But this should not dissuade us from cultivating and practicing the virtue of patience, especially in the work we do around justice. Galatians 6:9 reminds us that we should "not grow weary in doing good for in due season we will reap a harvest if we do not give up." We should recognize that all good work takes time and that we need to trust God with the results-even if we aren't around to see them. 

Trust God
We have to continue to learn to trust God with our futures. Students across the country are sad that they can't see their friends every day, and many of us likely miss some of that human connection as well. The disruption of the normal–from no more sports games to no more homecoming–means that many of the students I work with are feeling that their whole world has been taken from them. It is always hard to look forward to something–to have an expectation of what something will be like–and have that taken away. It can make planning towards the future, whether that be college or a career, even more difficult as fear sinks in that maybe this won't work out, or what if this gets canceled too? 

Do not fear
Fear of the future can lead us down dangerous paths or paralyze us into inaction which  robs us of the potential that God has given us. I am reminded of my favorite verse-Jeremiah 29:11-for times like these, "For I know the plans I have for you declares the Lord, plans to prosper you and not to harm you, plans to give you a hope and a future."  Even though I know that my job is to help students develop plans for their futures, ultimately it is only God who knows what comes next; He has planned it and His vision is better than we can ever imagine. 
We can take comfort that the One who has overcome this world has plans for our lives even in the midst of chaos. As this new school year begins, I encourage you to pray for students, teachers, and staff in schools.  Hopefully, out of this disruption, more will come to see God's ultimate plan through the storm.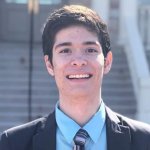 Daniel Strom recently graduated from North Park University in Chicago with a degree in history and political science. He currently works for the Illinois Student Assistance Commission and is applying to get his master's degree in history.