With Your Help COVID Can't Stop Justice!
by Judy Miller, Esq.
What a whirlwind we swirl in as 2020 twists and turns with every sweep of an illusive virus. Companies, governments, organizations, schools and individuals have all had to pivot and adapt to new challenges, new patterns, and new barriers. But as it goes with change, new opportunities await.
New virtual opportunities! Yes, let's embrace that!
Pivot and turn into our new opportunities: such is the constant drum beat heard at Administer Justice as we lean into the promises of our Lord and gird ourselves in the full armor of God. (Eph. 6:10-18)
And so now, after a few months of developing, testing and honing a new intake process to meet the social distancing demands of our foreseeable future, we invite you to join us in the "VIP World".
V.I.P. makes you a very important person, on a very important project, delivering service through our Virtual Intake Process.
Our new Virtual Intake Process model allows all of us – clients, volunteers, staff, and Gospel Justice Center teams – to keep the pathways to justice open and available when so much else is closed or limited. Our VIP takes GoToMeeting video conferencing and matches it with Acuity scheduling software, that integrates a snappy payment system, and includes survey and data-collection capabilities.
All said and done, it expands service while creating flexibility and freedom.  Really?!  Yes!
Lunch with a side of Justice!
Imagine yourself around the noon hour, ready to take a lunch break. You grab a bite and settle into a virtual client meeting. A gospel justice team – attorney, client advocate, and maybe an interpreter – dial in and wait for the client. You have already viewed the client's basic data, including a brief description of the legal issue. The client advocate greets the client and introduces the attorney. The attorney provides a 45-minute consult then re-introduces the client advocate back into the meeting to address the social and spiritual needs of the client. The team enters their notes into Justice Center Online (JCO), our electronic database. Period. Lunchtime over. Client well-served.
For Maria, one of our first clients to be served using VIP, the experience was full and impactful. "They truly care about you, and they let you know that you matter," Maria wrote in the follow-up survey she received. "Especially the prayers helped me. I felt those, and had a better day." She added, "They are real people, good people and will do their best to help you. Good Christian values and morals."
Flexible service times!
Now imagine, a similar situation except that it's a weeknight, after dinner as you settle in for the evening. Two clients, with back-to-back appointments, are on your schedule. Once a week, you serve from the comfort of your couch.
Or imagine this: It's a Saturday morning and a team of volunteers are gathering at their monthly gospel justice center. On site is an intake specialist, hospitality coordinator, and a client advocate. Wearing masks and appropriately distanced, they welcome the client. The team assists the client in getting connected to a GoToMeeting call and introduces the client and attorney to each other, virtually. The attorney is at home. Afterward, the client advocate provides in-person care and provides the client with a small goodie bag to take home. The client leaves feeling empowered, encouraged and engaged.
The beauty of the Virtual Intake Process model is its flexibility and freedom.
A Gospel Justice Center has the flexibility to implement the model as exclusively virtual, or in a combination with some in-person and onsite availability, or as simply a way to schedule clients, collect the dignity fee, and gather pre-appointment information.
The attorney, the client advocate and the interpreter can choose from a full menu of consultation options. Among these are:
One client per week (45-minute advice and referral consult) over a lunch hour.
A couple clients per week, in the evening.
One Saturday morning per week, from 9 am to noon, with 3 clients.
"On call" one Saturday morning per month (9 am – noon) for GJCs that have walk-in clients.
Any of these options can also accommodate any follow-up appointments that may be advisable.
Our clients, too, get to reap the benefits of flexibility as more options open up to them. A client can schedule an appointment through an online portal or with the help of an intake specialist via phone call. The same client can choose a time of day or evening, during the week or on a Saturday, so their appointment doesn't conflict with their work or family obligations. A client with computer and internet access can save themselves the hassle of finding safe transportation by meeting with the GJC team remotely. Those without technology luxuries can choose a GJC location where an in-person team will assist them with the VIP appointment.
Let's embrace this new opportunity! Together, we can bring justice to neighbors in need.
To become a V.I.P. volunteer, fill out this simple form to get started: https://bit.ly/AJVolunteerForm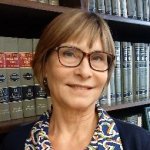 Judith ("Judy") Miller is the executive director of Administer Justice, a non-profit Christian legal aid serving low-income individuals through gospel justice centers in neighborhoods across the U.S. In her role as executive director, Judith oversees the function of all the legal centers.  Judy has been associated with Administer Justice since law school when she started serving as a law student intern. After becoming licensed to practice, she continued to serve at Administer Justice as a pro bono attorney while building a solo practice in family law and bankruptcy. Judy earned her juris doctorate in 2008 from Northern Illinois University College of Law.  Judy is a widow, the proud mother of two grown children, and the adoring grandmother of a 2-year-old grandson.