Eugene Cho: On How To Not Be A Jerk In Politics
I recently caught up with my friend Eugene Cho as he transitions to take on his new role as President of Bread for the World.   I wanted to ask him about his new book, Thou Shalt Not Be a Jerk:  A Christian's Guide to Engaging Politics.  Here's what he had to say.
Q: Why did you decide to write about faith and politics?
A: I am deeply concerned, and at times deeply grieved, by the state of the political affairs in our society. The heart of this book is to tend to fellow Christians who deeply care about our society, church, culture, and politics. Many of them want to engage but don't quite know how to go about this messy and chaotic space.
As a pastor, I've heard this countless times: "I care. I want to care. I just don't know how to go about it." You're not alone. I'm wrestling, too. It feels jarring. So many of us are wondering how we can be faithful to Christ, remain engaged, and maintain our integrity. It is my hope and prayer that Thou Shall Not Be a Jerk will help us all continue to be Christ-like in the chaos and craziness of our political climate.
Q: How do you see politics playing out among Christians in the U.S.?
A: Within the Church, it's all too convenient to blame the larger culture and society. I'm equally concerned by the manner in which Christians are engaging the political machine. For example, certain Christians have altogether dismissed and disengaged themselves from the political process—either because it's too exhausting or because of the theological bent that shapes their conclusion that a follower of Jesus should only focus on "spiritual things."
Simultaneously, I'm concerned by Christians who appear to be overly obsessed by politics, those who have chosen to justify everything they do for the sake of political ideology, views, or convictions. And I'm concerned by Christians who are more influenced by a vision of cultural Christianity and the power they can wield in our society without necessarily being about the ways and heart of Christ.
Q: What would you say to the Christian who says, "Politics just doesn't matter"?
A: Hear this well: Politics matter. They matter because politics informs policies that ultimately impact people. When I read the Bible, people matter to God—including and especially people who are marginalized, oppressed, forgotten, and on the fringes of our larger society. While there are some Christians who've chosen to disengage from the political process, remain silent, or retreat to the sidelines, that kind of isolation or retreat from society is not endorsed by this book. I believe Christians ought to engage our larger culture—including the many facets and nuances of what we label "politics."
Q: How do our political views shape our personal identities?
A: Many of us have our favorite politicians and they have their political positions, and by and large, we seem to be comfortable with that arrangement without a ton of other critical thinking. We align with our candidates or our party. As such, sometimes the most passionately held beliefs among Christians may not be informed by our life-transforming faith in Christ, but instead, originate from our chosen political party or political ideology. Subsequently, the ideology becomes part of our personal identity.
It's quite telling in our culture today that an increasing number of Christians are much more prone to advertise and promote their political leanings and views than share their identities as Christians, let alone, take intentional steps to actually share their faith with others through evangelism.
Q: How do you believe Christians should navigate the 2020 U.S. Presidential election?
A: We are inundated by politics, party, and power in these confusing times, but this is precisely why we must be about the Kingdom of God. If you feel hazy about what the Kingdom of God looks like, look to Jesus. He's not a domesticated puppet of our worldly power structures. The crucified and risen Christ is Lord and Savior. Indeed, we must keep looking to Jesus. Better yet, we must make sure we don't just admire Him from afar, but actually worship and follow Jesus—His words, His teachings, and His ways—before it's too late.
In today's culture, we can always find some authority, leader, author, blogger, or expert who will affirm our views. But how much more valuable is it for us to first ground ourselves in Christ and His ways? We must see the greatest commandments of loving God and loving our neighbor as what directs the trajectory of our lives, informing all of our decisions. Otherwise, we will be at the mercy of building our lives and ideology on something as ever-changing as shifting sand.
Thank you, Eugene.  As I often say, Jesus is neither a donkey or an elephant.  He is a lion and a lamb.  We are citizens of God's Kingdom.  Advancing that Kingdom means caring about justice and righteousness in individuals and systems.  I encourage you to add Eugene's book to your summer reading list.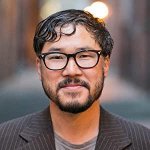 Eugene Cho is the president-elect of Bread for the World, the founder of One Day's Wages, former pastor of Quest Church, a husband, father, and friend of God.