Three Ways Justice is the Heartbeat of a Father
Fathers matter.  While it is common to attack fathers for being absent in families or an abusive presence, there are many fathers leaving justice legacies through courage, conviction and care.  Thank you for representing the heartbeat of our heavenly father.
The Heartbeat of a Father Demonstrates Justice Through Courage
You would take a bullet for your family.  Deep in your DNA is a desire to provide and protect.  You work hard to provide a better future for your children.  Every dad feels this way.
Courage takes risk.  In this pandemic you may be risking your health as an essential worker.  Disproportionally our fathers of color struggle to support their family.  You may have lost your job, but remain strong for your family as you worry about failing them if you can't find work. Once again, our fathers of color are disproportionately impacted.
You may be an employer concerned for not only your family but the families of all that you employ as you wonder when you can open, how to open, and whether PPP funds will be enough to survive.
Thank you.  In times of crisis it takes courage to lead.  May I encourage you to lead as a servant.  The eyes of your family and the families around you are on you.  Follow the example of your Heavenly father.  He showed courage through compassion and led through love.  He took the bullet meant for you and died in your place.  Be a leader that reflects that very sacrifice.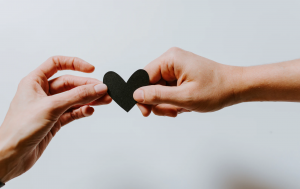 The Heartbeat of a Father Demonstrates Justice Through Conviction
You have convictions.     You want things to be right in the world.  There should be equal opportunity for all.  Some fathers lose their way here.  Sadly, they focus on their own idea of justice for themselves, rather than seeking justice for others.  Don't.
Your convictions should reflect your values.  Those values should reflect your Heavenly Father.  You are not here to take up space on planet Earth.  You are here for a divine purpose.  Discover yours.  Don't let time slip away only to reach the end of your days alone and purposeless.  Establish a legacy now.
When my twin sons entered high school, I made a point of regularly taking them out separately for breakfast.  I checked in on how they were processing faith, family and school.  I took the opportunity to build into them the DNA of what it meant to be a Strom.  For us that legacy is justice, service and love.  How do you demonstrate that?  Is what you are doing demonstrating that?  Each quarter we went away to talk through big things like money, how to treat women, service, justice and more.
I sought to pass on the one lesson God has taught me – life is not about me, it's about serving others.  I was not saved to sit – I was saved to serve.  God gave me a law degree.  I use what I have to serve others.  I want my sons to do the same with whatever God gives them.  Anyone who knows Joseph and Daniel, knows they embrace this as they lead and serve others.  As a father, share your convictions and values.  Leave a legacy.
The Heartbeat of a Father Demonstrates Justice Through Care
Justice is love in action.  You can say you love your neighbor, but actions speak louder than words.  What are you doing to show that love?  Caring is not weak.  Mercy is not wimpy.  Mercy is restrained strength demonstrated through loving kindness.  This is part of God's character and we are to reflect that character.
As a family we love Micah 6:8 – "He has told you, O man, what is good; and what does the Lord require of you but to do justice, and to love kindness, and to walk humbly with your God."  If you come visit me at Administer Justice, I'll grab my coffee mug and enter into a conversation on justice, kindness and humility.  My coffee mug says – it's a guy thing.  I think it is a Christ follower thing, but that includes guys.  It includes fathers.
I firmly believe the best example you can set for your family is serving others.  When you involve your family in giving decisions, you help them see that money is not something you horde to spend on yourself.  Money was given to you to steward for yourself and others – especially the least of these.  Time was not given to you for you to horde on work and family.  Time is a gift to be used in advancing God's Kingdom and that happens by doing justice, loving kindness and humbly serving those in need.  Nothing will change you or your family more than putting the needs of others ahead of your own.
How to Demonstrate Care
There are many ways to do this.  One is through Administer Justice.  Bring your family to a Journey to Justice event (e-mail [email protected]).  Sign up for a volunteer opportunity (e-mail [email protected]).  Include us in your giving and let your family know why.  Share stories of lives changed because of the time and resources you shared.
Be a Father that reflects the heartbeat of your Heavenly Father.  Doing so will have a significant impact.  Happy Father's Day.