3 Helpful Fundamentals to Launching Something New

Are you considering starting something new? Whether a relationship, business, volunteer opportunity or anything else, here are three helpful fundamentals to consider.
1. Begin with Prayer.
Maybe you aren't a praying person. This is a good time to start. For Administer Justice, it started with the prayers of my wife, Helen. You want a prayer warrior like Helen in your corner. Find one. Seek Godly counsel from others and spend time praying.
We all have longings of the soul. Sometimes those longings are self-centered. Desiring a person, profession or opportunity to satisfy a perceived self-need is the WRONG reason to start something new. If God is burdening you with the desire to serve others in a relationship, business, ministry or opportunity, then pray for open doors.
My friend, Dr. Tony Evans, shares two additional clues:
"When we see these two clues in our lives, we should suspect that we are in the vicinity of receiving something very special from God. Clue number one is this: God is not allowing anything that you do to work. Perhaps you feel that you have done everything you can – you've gone job hunting, read the books, gone to counseling, but things still aren't working. When this happens, it's likely that you are exactly where God wants you to be. Clue number two is this: What God asks you to do doesn't make sense…God can do 'above and beyond' for you when you are willing to follow his instructions, despite how far-reaching they may sound."
Save the Date – Friday, Oct. 16 – and join Dr. Tony Evans at our annual event
Prayers of faith
That is my experience. Maybe it is yours. Helen and I could not have children. We'd done all we could do. Helen prayed for our children, but more she prayed for God to capture my heart. God heard her prayers and sent significant challenges into my law practice. Suddenly everything stopped working. As a result, I was open to considering something new. But it did not make sense to abandon the security of my law practice for the insecurity of a start-up non-profit. With Helen staying home with our newborn twin sons, how could I go from a healthy six-digit income to nothing?
God can do 'above and beyond' for you when you are willing to follow his instructions, despite how far-reaching they may sound. Helen's prayers fueled my prayer life. Together we have prayed over Administer Justice for 20 years and seen God grow the ministry from nothing to 107 locations serving more than 60,000 vulnerable neighbors in need. Never doubt what God can do through you when you walk in obedience to His call.
2. Pursue God's Word
How do you know if God is calling you to something new? God will not call you to something that is not directly in line with His will revealed through His word.
The Bible tells us, "Many are the plans in a man's heart but it is the Lord's purpose that prevails." Prov. 19:21. The Bible also warns that your heart is deceitful above all things (Jer. 17:9) so we need to pray, root ourselves in God's word and surround ourselves with Godly counsel. This is true whether you are considering a new relationship, business, or any opportunity. Seek God first and everything else will fall into place. Mt. 6:33.
Administer Justice is rooted in Scripture. The name comes from a Christmas present made by Helen of daily verses of justice. My heart softened and changed as I learned more about God's heart for justice. Justice is the second most prominent theme in the Bible and yet I missed it. I missed one of the verses in Helen's gift:
"This is what the Lord Almighty says, Administer true Justice, show mercy and compassion to one another. Do not oppress the widow or the fatherless, the alien or the poor. In your hearts do not think evil of each other." Zech. 7:9-10.
3. Put others first
Why are you considering something new? I found myself in a storm of circumstances because I did not want to obey God. Remember Jonah? God uses different ways to get our attention. Often He brings you to the end of yourself so you will rely on Him. When you take your eyes off yourself and look to Him, you discover His great love for others – including you. Jesus came not to be served but to serve others. He asks you to do the same.
Your relationship is not about what you should expect someone else to give you, but how you can serve them. Your business isn't about making money, it is about creating meaning for your employees and customers. Volunteering is not about the feeling you get, it is about the feelings you give – love and hope.
I wasted 35 years of my life not understanding one simple truth. Life is not about me. Life is about how God can use me in the service of others. God is other centered. You should be too.
Inviting others
Do you want to experience peace and joy? They come from a deep prayer life, rooted in Scripture and lived in the service of others. I love sharing this simple truth with others.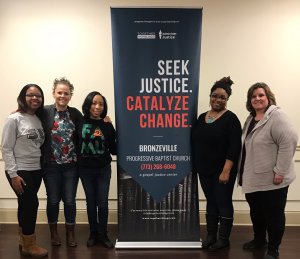 This last weekend through our partnership with Together Chicago, we invited volunteers to step out by faith into the opportunity to love their neighbors through legal ministry. Two of our staff were training friends at Progressive Baptist Church in Chicago. I was with my friend Alvin Bibbs doing the same at Victory Apostolic Church in Matteson. Both these sites will be up and running next month as they do justice, love kindness and humbly walk with God.
My friend Alvin shared the story of a client who recently accepted Jesus at one of our sites. We rejoiced over volunteers praying, reading God's word and taking action to serve others. I can't wait to see what God does in and through His people.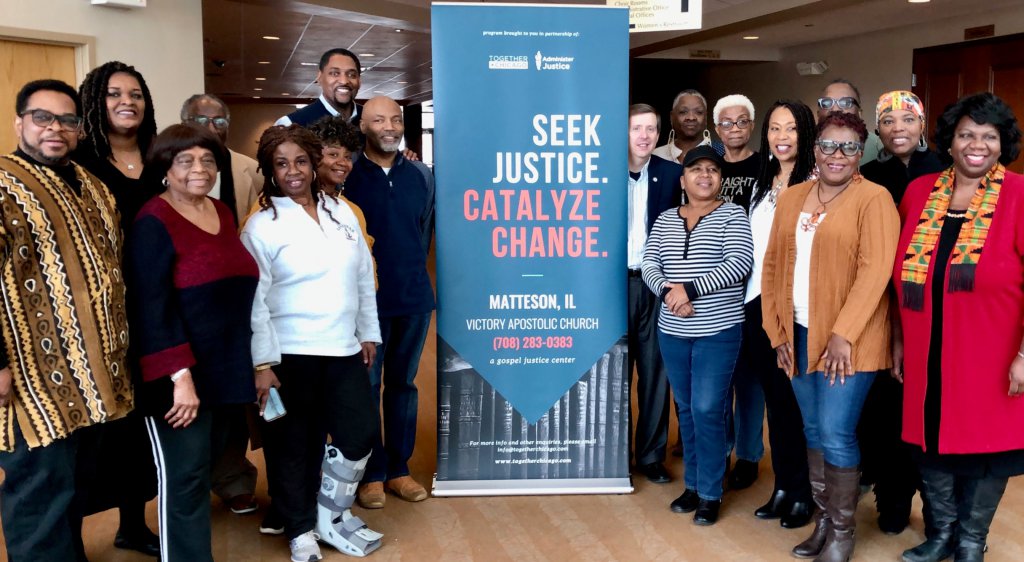 How about you? If you are considering something new pray, read God's word, seek godly counsel and serve others. If that something new is living out justice for vulnerable neighbors, we would love to explore that opportunity with you.