What does it mean to have a heart that beats for justice?
I didn't always have a heart that beat for justice.  How about you?  I thought I'd take a moment to reflect on love and justice as we approach Valentine's Day.
Love and Justice
Justice is a powerful word.  You feel it in your bones.  Fundamental fairness.  If we are all created equal, then we ought to have equal opportunities.  When the scales of justice are unbalanced we naturally cry foul.
Jesus did.
When poor pilgrims were being taken advantage of through unfair exchange rates in the temple, He cracked a whip and cleared the temple.   I bet you feel the same way over many injustices.  God created that sense of fair play deep within you.  He is a God of justice and created you to care about justice.
What's love got to do with it?
True justice is always rooted in love.  You see unfairness and want to make things right for a fellow human in need.  When you root your advocacy in helping achieve fairness for someone else, you are reflecting God's heart of love through justice.  When you want to get even or seek justice for your own ends, you become the oppressor and an agent of hate.
Injustice is rooted in hate.  Justice is rooted in love.  If you want to have a heart that beats for justice, then love people.  Care deeply about your neighbor.
20 years of loving justice
I confess I once equated justice with judgment.  Believing myself superior to others, I easily passed judgment.  Justice was receiving proper punishment for being divorced, gay, illegal, Muslim, a criminal, etc.  I failed to appreciate I was a murderer every time I hated a fellow human.  An adulterer every time I had a lustful thought.  And that I was taking the place of God who alone is judge.
Am I the only one?
Many years ago God changed my heart.  I learned to love my neighbor.  I saw people caught in confusing legal circumstances with no place to turn for help.  The fear and confusion were excruciating.  I had a law degree.  I had something that could help my neighbor.  Would I ignore their need?  Or would I use what I had to help free them from legal burdens so they could flourish?
Twenty years ago, I decided to help.  I would serve one neighbor at a time.  I would do what I could to help them find freedom from legal oppression.  The incorporation papers to start Administer Justice were mailed, not knowing when they would be filed.  On February 14, 2000 Administer Justice was established.  I believe this was God's valentine to neighbors in need.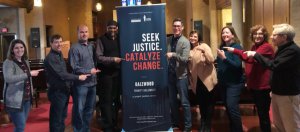 This weekend we opened our 105th gospel justice center in Chicago with our friends at Together Chicago.  Each location is run by trained volunteers to empower vulnerable neighbors with the help of a lawyer and the hope of God's love.   Consequently, more than 50,000 people have found hope and clarity through the specific guidance of a gifted volunteer attorney and team.
March 29 and October 16
How about you?  Does your heart beat for justice?  We would like to provide training and an opportunity for you to do justice.  If there isn't a location near you, let's talk about establishing one.  Maybe you need help or know someone who does.  Please guide them to us.  Maybe you don't have time, but you have resources that would provide justice for someone.  Join our client partnership program by giving $30 a month.  Each client contributes a one-time dignity fee of only $30.  Maybe you can do the same.

If you are in the Chicago area, join us for a celebration service on Sunday, March 29 from 3:00 to 4:00 at Fox Valley Church in West Dundee.  Fox Valley is my church home and where Administer Justice began 20 years ago.   Find others who care deeply about justice, worship, pray and praise together.  Powerful stories will be shared as we celebrate the past and look to the future.
Please save the date now for Friday, October 16, when my friend, Dr. Tony Evans will be in town to help us celebrate 20 years.   You won't want to miss his encouragement to Open the Gates of Justice so 1,000 neighborhood legal centers can be established transforming the lives of thousands of people every year.
Today my heart beats for justice because my heart beats for Jesus.  I've come to realize they are the same.  I cannot love God without loving my neighbor.  I cannot love my neighbor without caring about justice.  How about you?